Reading Tuesday's obituary for pianist Pinetop Perkins brought back a flood of musical memories. The last time I saw Pinetop was a long time ago, at the amazing but nearly forgotten Sugarloaf Jazz Festival in 1995. That event deserves an article all of its own, maybe even a picture gallery. But for now I'll share just a few photos I made of Pinetop from that memorable weekend (scroll to the bottom for the last two), along with the Washington Post's tribute. Pinetop was 81 years old when these pictures were taken.
Pinetop Perkins, boogie-woogie pianist to blues legends, dies at 97
By Terence McArdle, Tuesday, March 22
Pinetop Perkins, 97, a blues pianist who worked with such legendary musicians as Muddy Waters, Sonny Boy Williamson and B.B. King, died March 21 at his home in Austin from cardiac arrest. Last month, Mr. Perkins became the oldest performer ever to win a Grammy Award.
Mr. Perkins was considered an elder of boogie-woogie and blues piano and was one of the last of a generation who learned the music in juke joints and house parties in the Deep South, rather than primarily from records. Perhaps best known for his work with singer-guitarist Muddy Waters, Mr. Perkins opened, and sometimes closed, shows for Waters from 1969 to 1980.
With his distinctive homburg hats and suits, Mr. Perkins brought a laid-back but dapper presence to the Waters band. His rolling left hand, rooted in the barrelhouse tradition of the Mississippi Delta, gave the band much of its musical drive.
After a lengthy career as a sideman, Mr. Perkins became a headliner, performing at blues festivals and recording prolifically into his 10th decade.
"This living legend does not walk fast," reviewer Steve Kiviat wrote in The Washington Post in 2005, "but his fingers are quick as ever on the 88."
Mr. Perkins was a seasoned musician when he joined the Waters band. He had performed on the radio with harmonica player Rice Miller, who went by the name Sonny Boy Williamson, in the 1940s and taught a young Ike Turner the basics of boogie-woogie piano.
His stage name came from boogie pianist Clarence "Pinetop" Smith, whose popular 1920s recording "Pinetop's Boogie Woogie" became Mr. Perkins's signature song. Mr. Perkins recorded few original tunes but interpreted blues standards from such singers as Ivory Joe Hunter, Louis Jordan, Leroy Carr and Howlin' Wolf.
Joe Willie Perkins was born July 7, 1913, on the Honey Island plantation near Belzoni, Miss. He and his mother lived with his abusive grandmother. After a beating left him unconscious, Mr. Perkins left home. "When I came to, she was still beating me with a stick of stove wood," he told NPR. "I left there, didn't go back. I came up in the world the hard way, man."
Mr. Perkins drove tractors, picked cotton and played guitar in Mississippi and Arkansas juke joints. A self-taught musician who could "hear the chord changes coming to me before it gets to me," he could not read music but had learned the basics of guitar from his stepfather. He later took up piano because it was louder than the acoustic guitar.
The switch to piano turned out to be the right choice after a juke joint customer stabbed Perkins in the left arm, severing a tendon. The injury made it difficult for him to fret a guitar, but it did not affect his piano work.
In the 1940s and '50s, Mr. Perkins worked with guitarists Robert Nighthawk and B.B. King, as well as Williamson and Turner. In the 1960s, he moved to Chicago, where he worked as an auto mechanic and performed on the city's South Side with guitarist Earl Hooker.
He joined Waters in 1969 as a replacement for pianist Otis Spann and appeared on the Johnny Winter-produced album "Hard Again," which was recorded in 1976 and is often credited with revitalizing Waters's career. Mr. Perkins and Waters appeared with the Band in the 1978 concert film "The Last Waltz," directed by Martin Scorsese.
In 1980, Waters's band quit after a dispute over money. Mr. Perkins and three other sidemen formed the Legendary Blues Band and recorded two albums before Mr. Perkins struck out on his own in 1985.
His many awards included a National Heritage Fellowship from the National Endowment for the Arts in 2000. After receiving a Grammy Award for lifetime achievement in 2005, Mr. Perkins won two additional Grammys for best traditional blues album. He shared a 2008 Grammy with three other musicians for "Last of the Great Mississippi Delta Bluesmen: Live in Dallas" and won again last month for "Joined at the Hip: Pinetop Perkins and Willie 'Big Eyes' Smith."
He also won 12 consecutive Blues Music Awards (once called W.C. Handy Awards) as best blues pianist from 1992 to 2003. In 2004, the Blues Foundation retired him from the competition and renamed the award the Pinetop Perkins Piano Player of the Year.
Mr. Perkins had an early marriage and outlived his four children. After his common-law wife died in 1994, he slid into an alcoholic depression and briefly considered retiring. Instead, he quit drinking. But he never lost his taste for fast food and cigarettes. His booking agent, Hugh Southard, recalled in an interview that the long-lived bluesman's performance contract called for two double cheeseburgers, two apple pies and a medium Sprite from McDonald's.
In 2004, Mr. Perkins's car was hit by a train near his home in LaPorte, Ind. His arms were battered, and he required 45 stitches to the head, but the indomitable bluesman soon returned to performing.
"I remember the days when I played at chicken fights and your only pay was the dead chicken," he once told the New York Times. "But now I can't retire even if I want to. Everybody's calling me."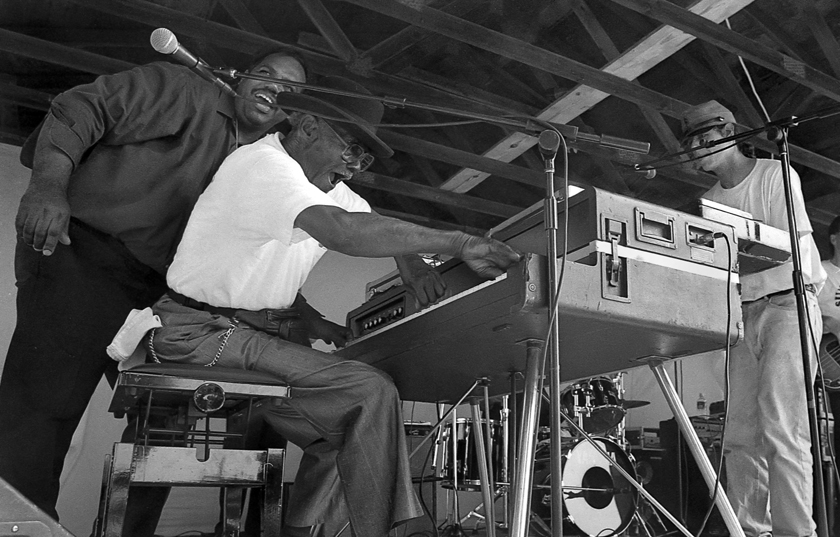 Above: Daryl Davis, playing both ends around Pinetop, and Sugarloaf Jazz Festival promoter (and keyboard phenomenon) Buzz Lerch, partially obscured on right, joined forces for an amazing three-man, two-piano jam near the end of Pinetop's performance on Sunday, June 11, 1995. You really had to be there.
Below: Pinetop receives accolades from Jenny O'Neal, who directed food services at the festival.