"My secret other" is a bit misleading since I was deeply immersed in stained glass through most of my 20s. In those days it was more of a secret that I also loved photography and writing. But I hadn't yet found my voice writing and kept beating around the edges of photography, rarely having access to a darkroom (essential for serious work in those days).
The beginning
My experience with glass began in 1973 when I was living in Santa Monica, California. There was a house in my neighborhood that had lovely leaded glass windows in an art nouveau style, and I admired them every time I walked by. They were close enough to the sidewalk to study, and the more I studied them the more it seemed I should be able to do something like that.
I enrolled in a stained glass course at a studio in Los Angeles and after building one small panel I was hooked. I had been working as a carpenter, and moved to Detroit soon after where I started doing home renovations with a friend. One day a building supply store manager asked if I knew anyone who could make stained glass windows. I told him I could, and he gave me my first commission – a pair of windows for the bathroom in his home. I don't think he ever knew they were the first real windows I'd made.

After that project I wanted to try a more challenging design, something like the windows I had admired in Santa Monica. I sketched a pattern on a scrap of paper one afternoon, and the next day drafted it full size. A few weeks later that design became the "Early stained glass window, circa 1974" pictured in my gallery. It still hangs in the home of friends.
When I moved back to Maryland the first thing I did in the tiny Takoma Park apartment I rented was build a workbench to do stained glass. I quickly outgrew that space and found a house where there was more room for a shop. Meanwhile my parents had built a new home in Howard County. A few months later they invited me to move in, help them tame their wooded lot and put in a large garden, in exchange for still more space in their basement. It was in that shop where most of my subsequent windows were built – even after marrying, moving out and beginning my own family.
The transition, and a big decision

In 1979 I had begun to tire of working in solitude. I was invited to become a graphic designer for the Review and Herald Publishing Association just outside Washington, DC. Much as I loved glass, working with the printed page opened a wonderful, fascinating world to me. I loved my new job.
One weekend I happened to be visiting Washington's National Cathedral when a new stained glass window was being dedicated. By sheer chance that day I met master glass artist Rowen LeCompte, who already was legendary for his work in the cathedral. We talked about his windows and I told him a little about my love for glass. He ended up taking me on a tour of the cathedral, on a catwalk up scary high, just beneath the clerestory windows where I could actually touch the glass. He took me into a tiny prayer room to show me his first window for the cathedral made decades before, when he was still a teenager.
He finally asked if he might see some of my work. And so it was not long after that we spent one rather unbelievable day together, driving between churches, residences and Washington Adventist Hospital where he looked at my extremely primitive work (by comparison with his).
Mr. LeCompte must have liked something about my naiveté and enthusiasm, for a short time later he invited me to visit him at his home and studio in rural Virginia where he opened to me the opportunity of a lifetime: I was invited to become his apprentice. Officially I would be an employee of the cathedral, helping to build and install his windows in that magnificent place. But my role beyond that would be to absorb his knowledge, to carry it forward in the world.
It was a huge dilemma for me. The opportunity was almost unbelievable but the timing was wrong and I felt unprepared for the commitment he was asking me to make. To this day it's hard to know whether I did the right thing or made the mistake of a lifetime, but I declined his invitation. I stayed on at the publishing house and my love affair with print, journalism and visual communication has never ended.
The reprise
I still have great fondness for glass – it's an incomparable medium for light and color. But after years passed I never expected to work with it again except possibly as a hobby. That is, until a few years ago when I was contacted by an intermediary asking whether I might be interested in working with a new church that needed stained glass windows. No, I wasn't. I had no shop, my old tools were scattered and the idea seemed preposterous to me. The inquiry came again and my reply was the same. Six months later I learned the church was still interested in me doing their windows and I began to reconsider.
Around the same time a close friend who was an interior designer told me her firm had a commercial client (Annie's) that also needed a large new stained glass window. Would I be interested in helping them? Now it seemed there might be a certain destiny in all this, and I began looking around for someone who could build these windows if I designed them. After a search I found a studio in North Carolina, Salem Stained Glass, that not only had the requisite experience but a very down-to-earth, hands-on owner I felt comfortable with. Al Priest had even built a window designed by Rowen LeCompte some years before, and he had a rambunctious crew of great craftspeople working for him.
And so I agreed to take on windows for Annie's and the Southern Asian Seventh-day Adventist Church, working in tandem with Salem Stained Glass Studio. Brad Brown, Salem's studio manager, was a great partner in bringing these two projects to fruition. He was as patient and precise as I was finicky and demanding regarding glass selection, color matching and quality control. Phil Hamby did a peerless job drafting my artwork to full size and Derek McCuiston probably did better than I could have with all the painting and kiln firing. And the whole crew did a superb job building and installing the windows, including Al Priest who presided over the creative chaos like a benevolent Buddha.
Meanwhile I also had the opportunity to rebuild an old window of my own from 30 years before. It was collapsing due to its place of honor in the front door of a home, where it had endured decades of slamming with children and grandchildren growing up and going in and out that door. It was fun but not so easy making my hands go through the old motions they once knew so well.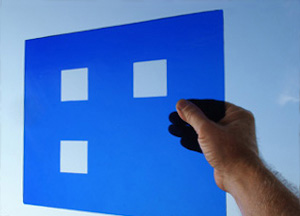 I don't anticipate doing more glass work, but have learned never to say never. I greatly enjoyed seeing these recent projects come together. Annie's big window involved a lot of my own handwork. I did all the masking and acid etching of the clear squares. It's a difficult, nearly obsolete technique due to being hazardous beyond all reason, but nothing else can produce such a smooth, clear etch. The chemicals are hard to purchase and require special permits now. Incredibly, I had a jug of unused hydrofluoric acid from nearly 30 years before that I never knew how to dispose of safely. It had lost none of its potency, and it was exactly enough to etch Annie's big window. Some things just work out.
Now I'm calling myself a photographer again, but it's fun to put on a different hat from time to time. To step outside your comfort zone and tackle something different and challenging. My most recent foray into the unknown was building this website, and I expect the unexpected creative opportunity may come knocking once again before too long. I say, bring it on!
Below: Me at my glass workbench in Takoma Park, 1975